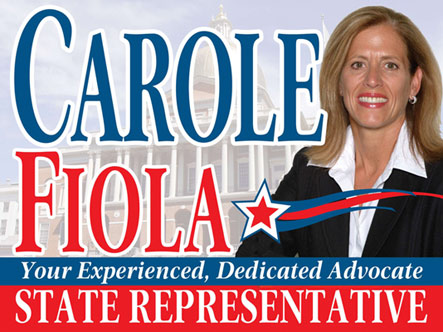 Herald News article on 90 days in office
http://www.heraldnews.com/newsnow/x2132766419/CAROLE-FIOLA-Three-months-on-Beacon-Hill-go-by-quickly
The months of hard work which led up to my swearing-in on Sept. 25 felt like a whirlwind, but after a non-stop and tireless campaign for the office of state representative of the 6th Bristol District, I was humbled by the voters' decision to elect me. Of course, I understood at the time that the work was really just beginning — 90 days later, that whirlwind has not stopped.
Due to a special election, my work began right in the middle of a regular two-year term, so I knew I had to hit the ground running. In fact, on that first day of swearing in, the Legislature met in session regarding the "tech tax," and I joined my new colleagues in swiftly repealing it. Soon after, Speaker DeLeo assigned me to three committees: Public Service; Mental Health and Substance Abuse; and Economic Development and Emerging Technologies. Each one of these committees is important in its own right, but I know that they are all related to major issues in my district, as well.
I knew I had to establish some order out of the swirling energy and adrenaline of my first few days. I quickly set up my office in the State House in Room 446, conveniently located near the café and among a great group of other representatives and legislative aides who have been tremendously welcoming and helpful. As a freshman representative, I am fortunate to have such a workspace.
I also knew I had to be accessible to the constituents of the 6th Bristol District, so setting up office space locally was the next priority. During my search for a convenient and accessible office, the county commissioners graciously offered a space at the Registry of Deeds building at 441 N. Main St., Fall River. A central location in a beautiful and historic building, it has turned into the perfect place to talk with constituents, hold meetings, and tackle the various issues that concern the district. It has already become a hub of activity.
To accommodate my northernmost precinct, I set up office hours each month in the Freetown Town Hall and the Freetown Senior Center to provide my Assonet constituents a chance for regular, in-person communication.
Among chatting with residents of senior centers, drafting letters of support for grant proposals, meeting with special interest groups in the State House, and attending various events throughout Fall River and Assonet, these past three months have been nothing short of busy. Through it all, though, I have dedicated myself to dealing head-on with the major issues affecting our area.
During the first 90 days of my term, I have made it a point to have my voice heard in Boston on issues of importance to Fall River and Assonet — whether it be working with the Massachusetts Division of Conservation and Recreation on firming up a 2014 schedule for the reconstruction and rehabilitation of the Heritage State Park Boardwalk, advocating for the release of funding for a Route 79 North creation of a waterfront boulevard and re-establishment of two way traffic on Brightman Street, or meeting with the Freetown Board of Selectman to better understand their economic development and educational needs for Assonet and beyond.
I have also been in frequent contact with representatives from the Department of Housing and Community Development to examine and analyze the housing concerns in our area and plot out a course aimed at spreading low income housing throughout the Commonwealth as opposed to warehousing these families in poor communities.  In formal sessions in the State House, I have voted for several pieces of legislation that benefit not only our area, but also the commonwealth as a whole. These include the VALOR Act II, which provides a variety of further support services for veterans and their families; An Act Relative to Compounding Pharmacies, which increases oversight and improves quality and safety standards; a housing bond bill, authorizing $1.4 billion in capital spending over five years to fund the safe, secure, and affordable housing over the next five years; and An Act to Foster Economic Independence (welfare reform), which promotes financial independence and extra security against fraud.
Finally, there is what I believe to be an equally important aspect of my job — constituent service. As a state representative, I have made myself accessible to help with whatever needs or issues arise with the residents of the district. My legislative aide, Peter Daley, and I do our best to assist those who reach out — and if we don't know the answers immediately, we always try to point them in the right direction and lead them to the best contacts.
Three months has gone by fast — the tasks, events, activities, emails, letters, calls, and meetings don't stop. But I would have it no other way. Public service is an honor that I humbly accept, and I remain dedicated to the district and its constituents' concerns. The other members of our area's delegation, state Rep. Paul Schmid, state Rep. Alan Silvia, House Speaker Pro Tempore Patricia Haddad, and state Sen. Michael Rodrigues, have been wonderfully supportive, and our offices have been working together as a strong and cohesive team. It remains an honor and privilege to serve the people of the 6th Bristol District. I'm looking forward to the experiences, demands, and challenges of the next year.